How I Feel About Head Protection: A Player's Perspective
I was four years old when I played my first baseball game. 
Even at such a young age, I could feel a passion and fire for the game emerging inside me.  I wanted the game to be played the right way.  How ticked off I would get at my fellow tee-ballers when they would decide that second base was actually located at the centerfield fence.  How unforgivable it seemed when a teammate would leave in the third inning to go watch the Braves play.  I mean, I loved the Braves too, but come on!  We had a game to win. 
It took me a few years to realize how much I loved pitching.  It came in second place by a narrow margin, only behind those hotcakes my dad would get me from McDonald's before every 8:00 AM game.
Professional Baseball Player Jesse Meier Talks the Perfect Game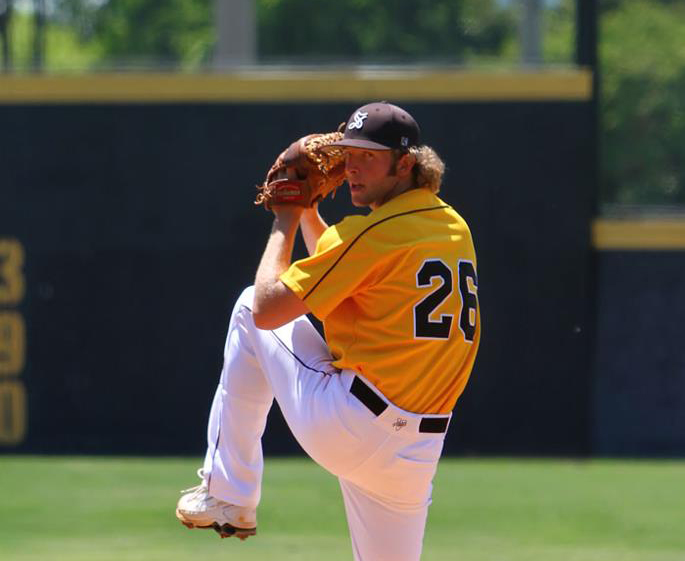 In elementary school, one of my friends was recognized in front of the school for his swimming accomplishments.  He was REALLY talented.  This got me thinking.  What is a remarkable feat in baseball?  Hitting a homerun?  Cool, but not uncommon.  Striking out a bunch of guys?  Impressive, but nothing any oversized firethrower can't do.  Pitching a perfect game?  A perfect game.  That was the ultimate goal.  My perfect game happened when I was a junior in high school – 21 batters, 21 outs.  It sounds simple, but how perfectly all the stars must align for it to happen.  No bobbles by an infielder.  No throw the first baseman can't handle.  No pop-up directly in the sun.  No dropped third strike squeaking through the catcher's legs.  No "punching Judy" single that lands inches out of arm's reach.  No errant pitch selection by the coach.  And NOBODY jinxing it from the dugout.
None of those scenarios even involve the pitcher himself.  Yet, he must shift all those thoughts, those worries to the backburner and focus on each pitch.  Pre-pitch routine, deep-breath, pitch, post-pitch routine, tempo.  Repeat until the last out is recorded.  Then there is the post-game routine, workouts, bullpens, pre-game routine, and you do it all over again.  It takes time, tinkering, and more tinkering until you find what works for you.  Habits become routines.  Routines become rituals.  Rituals become absolute truths by which you live and play the game.
Ballplayers, especially pitchers, are unique creatures.  That may be the greatest understatement since the game of baseball was first played over 200 years ago.  But take it from a guy who played the game religiously for over twenty years.  That's what the game is to most pitchers – a sort of religion.  Talent mixes with a compilation of routines, rituals, even a few superstitions that develop over time.  All these things define the type of player you become.  And all these things make head protection a challenging topic.  Pitchers are not always the most open-minded individuals when something is introduced that might alter their routines.
Playing Professional Ball and Wearing Head Protection


Growing up in Atlanta, I was surrounded by some of the most competitive baseball in the South.  Years of steady development under an outstanding coach led me to choose Birmingham-Southern as the place to start my collegiate career.  It was there I was first introduced to SST Baseball and the idea of head protection for pitchers.  At first, I was skeptical.  I remember thinking, "This is a really cool idea, but it might screw up my routine.  And other guys will probably feel the same way."  I was fortunate enough to be part of the initial development phase for their head guards.  I tried out prototype after prototype, giving feedback along the way.  But I still remained unprotected on the mound.  Thinking back on the tens of thousands of pitches I threw in my career, I remember more than a few liners narrowly missing my head – leaving me standing behind the mound waiting for my heart to start beating again.
After finishing with a career record of 22-4 at Southern, four conference championships, and an NCAA Regional appearance, I went undrafted.  I kept in shape, made multiple connections, and refused to quit, though.  And just like pitching that perfect game, the stars seemed to perfectly align and I was offered a contract to pitch in an independent professional league for a team in New Mexico.  During my first minor league season, SST provided me with a finished version of their head guard.  Four years of research and development had evolved SST's head protection from a simple idea to a goofy prototype to a sleek, carbon fiber composite that curved naturally around the head.  But still the question remained, "How long will it take for me to feel comfortable wearing this all the time?"  The answer came as a surprise to me.  I wore the guard for only two throwing sessions and two bullpens before I was ready to give my guard some innings.
Tweet How I Feel About Head Protection: A Player's Perspective
Head protection for pitchers is more rational than people realize.  Batters don't go up to the plate to face a 90 MPH fastball without a helmet.  But for some reason, pitchers don't fear that same fastball coming off the bat back at them at over 100 MPH.  It has little to do with having a glove, being athletic, or having quick reflexes.  Bottom line is this – if MLB pitchers can get hit with line drives, so can college pitchers and high school pitchers and travel ball pitchers and recball pitchers.  And with so many protective gear options, especially ones as sleek and discreet as SST's head guard, there is little reason to not be protected on the mound.
I wore my SST head guard for three minor leagues seasons with three different teams.  Nobody had any idea I was wearing head protection until I took the guard out of my hat and showed it to them.  It was an afterthought before, during, and after games.  I would even go to postgame team meals with the guard still in my hat simply because I had forgotten about it.  Thankfully, I was never hit on the mound.  But just one pitch and this could have been a very different story.
Jesse Meier has played baseball for over twenty years including three years in the minor leagues.  He wears a hat size 7-3/8 and wears SST's Pro X Medium for Right-handed Pitchers.
Save
Save
Save
Save
Save